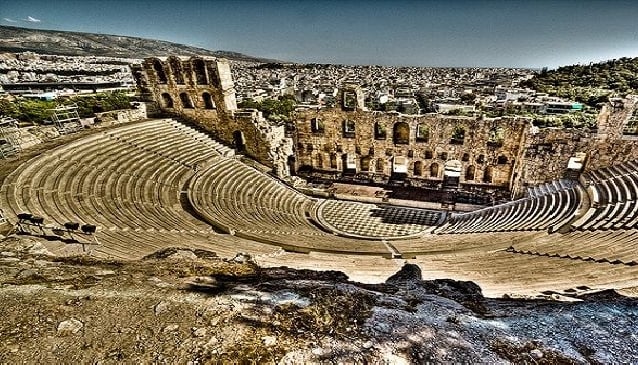 The Allure of Athens
Arts & Culture
...Athens overflows with buzzing bars, clubs & live music arenas
An ancient city of cobbled streets, Greek temples, Roman ruins and Byzantine monuments, Athens is inextricably woven into the fabric of time. Captivating travellers with its timeless allure, the history and culture of Athens have become one of its biggest attractions.
Soaring above the city on a rocky mound, and nodding to this historical past, stands the Acropolis. Named after the first Athenian King Cecrops, and spread over a flat rocky surface area, the Acropolis is home to some of the city's top archaeological attractions. Namely, towering temples dedicated to Greek and Roman deities that impress visitors with their sturdy stone facades. Everywhere from the Parthenon to the Erechtheum, these temples recall the resplendent past of Classical Athens, dating back as early as the 6th century B.C.
However, while the Parthenon is one of the most renowned ruins of the Acropolis, there are plenty of other places where you can soak-up this classical ambiance. Recounting their own particular favourites, our franchise has suggested some of the top historical hot-spots in Athens, from ancient ampitheatres to spectacular marble stadiums. These include the Roman Odeon Atticus, the Theatre of Dionysos, The Roman Agora, The Tower of the Winds, Hadrian's arch and the Temple of Olympian Zeus.
On the other hand, if trekking tirelessly around these archeological sites doesn't suit there are ample museums around presenting interesting aspects from Athens' flourishing past. Of particular note are the Acropolis Museum, the National Archeological Museum and the Byzantine & Christian Museum.
As freedom of expression remains at the epicenter of Greek culture, unsurprisingly festivals, art exhibitions, theatre and dance continue to thrive to this day. With perhaps one of the richest arts scenes in Europe, there are countless opportunities to revisit ancient Athens with atmospheric open-air theatre performances and magical moonlight concerts. One especially exciting event in the Athens arts calendar is the annual festival in Athens and Epidaurus, held between May and October. Famed for its diverse itinerary of dance, music, theatre and the arts staged in various local venues, these months of jam-packed revelry are a great way to absorb the relaxed Greek culture.
Art, archeological sights and culture are all well and good, but where Greeks are concerned, and especially Athenians, food features very closely to their collective heart. And, in almost every corner of Athens, you'll find a cozy taverna where you can tuck into some authentic Greek cuisine washed-down with some particularly potent local ouzo. Souvlaki tzatziki and moussaka are among the delicious dishes favoured here but for those with a sweet tooth the ultimate indulgence has to be the galatoboureko, a dessert made of semolina based cream custard in layers of fillo pastry and coated with a sweet syrup.
Athens comes to life at night, further demonstrating that the Greeks are not ones to stray far from their indulgent forefathers. As a town that never sleeps, Athens overflows with buzzing bars, clubs, live music arenas and beach lounges, all radiating the luscious glow of youthful energy. For a great place to bask in this glamorous glow, head to Villa Mercedes as brimming with luxurious sun-deck seating, chandeliers and big name DJ's, this is the place to see and be seen in Athens.
From one indulgence to the next, Athens and its suburbs boasts a wonderful array of shops, from high street labels to designer brands. In particular, head to Ermou Street to hunt out high-street bargains, the Kolonaki area for design-wear, and the Athens, Golden Hall and Attika malls to discover the best of both worlds.
And finally, if you are not completely exhausted from all of the above then we recommend a beautiful coastal drive around greater Attica or the southern suburbs of the Riviera. Either way, whatever you choose, you are sure to enjoy the crystal-clear waters of Athens glorious coastline.
Written by:
Marianna Lyra Stavride
PUBLISHED: Jun 9th 2017