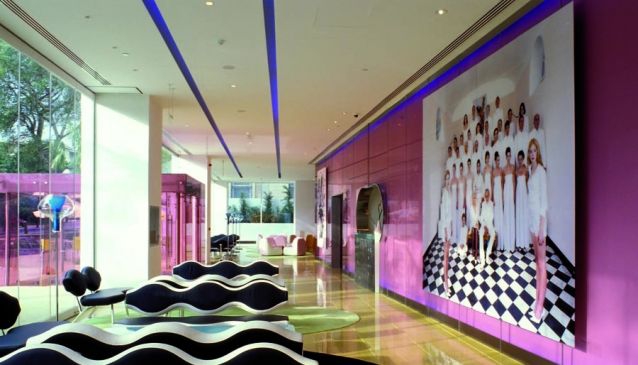 YES to Athens!
Arts & Culture
A stay in a Yes!Hotel is a unique experience... where luxury is Art and 'power' is Design.
Athens is a wonderful place to explore whether you are visiting for business or pleasure but what colours your memories of the city most is your choice of hotel...
YES! Hotels are situated in two key locations in Athens, in the chic centre and in the Northern suburbs, and offer a wonderful experience that will exceed all expectations - so much so that when you leave you will already be planning your next visit!
The Yes! Hotels have been created by Dakis Joannou the Athens - based industrialist and art collector who has been one of Europe's leading collectors of contemporary art since the 1980s. The first piece of art he bought was Jeff Koon's sculpture One Ball Total Equilibrium Tank (1985) which sparked his passion in collecting and exhibiting eclectic pieces by internationally acclaimed artists which he innovatively displays within his hotels in beautiful exhibition areas as well as regularly abroad. The public areas are centrally placed in each hotel and the artwork is displayed throughout - each piece beautifully complemented by the clever use of colours and textures with a keen eye for detail. The Joannou collection is rotated within the hotels giving regular guests the pleasure of enjoying a wide range of top works of art. Yes! Hotels also collaborates with the Zoumboulakis Art Gallery - one of the oldest art museums in Greece - to encourage the public to start their own collection of art.
Dakis Joannou's first hotel was the Semiramis which is located in the upmarket Kifissia district about 20 minutes from the city centre. YES! Hotels are wonderfully sensuous - each externally blends harmoniously with the other buildings in the locality but inside each has been contemporarily designed in style. The Semiramis is a perfect example of this with its exuberant pink lobby which is decorated with a huge YES sign twinkling with a myriad of light bulbs. Yes! Hotels also has the Kefalari Suites and the boutique hotel Twenty-One in this part of the city. The popular Periscope Hotel is situated at the foot of Lycabettus Hill, whilst the latest Yes! Hotel, New, lies close to Syntagma Square. Formerly the Olympia Hotel, this hotel's clever renovation and refurbishment exudes the Yes! philosophy of 'young, enthusiastic and seductive'. The hotel has been designed by the dynamic award-winning Campana Brothers from Brazil who have used off cuts of sensual materials like wood and parts of everyday objects with some of the hotel's original furniture in unexpected combinations of colour texture and abstract shapes to create its spectacular interior. The brothers have cleverly portrayed three traditions throughout the hotel - the glory of the history of Athens, the use of the 'evil eye' to protect against bad omens and the karagoiozis; the shadow puppet theatre which perform folkloric stories and enthralled audiences of all ages.
As well as a stunning and dramatic surroundings, YES! Hotels offer their guests sumptuous luxurious surroundings with a hint of indulgence, coupled with excellent service of the highest standards entwined with traditional warm Greek hospitality. Each guest is treated as an individual by hotel staff and nothing is ever too much trouble whether a taxi is needed for a business meeting or a speedy snack demanded by a hungry toddler. There is nothing mediocre about YES! Hotels as they have been created with a passion by those who want each guest to enjoy a memorable time in Athens, relaxing in the stylish and unique ambience that is definitely a YES!
Written by:
Marianna Lyra Stavride
PUBLISHED: Jun 9th 2017