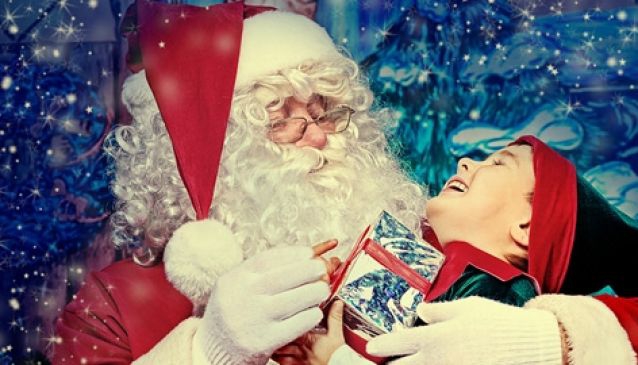 5 Reasons to be in Athens for Christmas
Family Fun
Magical Athens; a city of authenticity and vivid atmosphere has so much to offer during Christmas
Magical Athens; a city of authenticity and vivid atmosphere has so much to offer during the Christmas and New Year's festivities. We have prepared a short list for everyone to enjoy; of all ages and all tastes. Have fun!
1) Santa Claus Kingdom
The Santa Claus Kingdom is a wonderful area of 12,000 square meters at the newly renovated M.E.C Peania and hosts an amazing range of Christmas activities and games for both children and adults! You can watch concerts with popular artists, festivals, children's shows, laser shows, ice skating, carousel, play with the snow, help Santa Claus, but above all have a blast and have enjoy the holidays at the most impressive Christmas theme park of the country.
Opened Daily until 03 January 2013 from 11.00 am until 11.00 in the evening
For more information:
2) Opera & Classical Ballet
The Greek National Opera introduces the magic of Christmas... "The Nutcracker," a wonderful Christmas story which will be presented at the Olympia Theatre with a cast of famous and renowned ballet dancers. Presented for the first time in Greece in a spectacular production with amazing sets and fantastic costumes; you can watch this beautiful story on New Year's Eve or, better still, on Christmas day. A perfect way to enjoy the Christmas spirit!
For more information:
3) Concerts in the Center of Athens
The City of Athens has organized many concerts and activities to make this Christmas unforgettable! An ice rink of 200 sq.m has been set on Syntagma square with free access from 11.00 am to 21.00 pm and the square willl also play host to a workshop for kids that helps make toys for children in need. Burger Project will give a concert on Christmas Eve at 17.00.
Klafthmonos square will be flooded by musicians from the 21st of December until the 29th of December with 20 concert assemblies. Also, people passing through the Monastiraki square will have the opportunity to admire various dancing groups from the 22nd to the 29th of December. Various cultural centers and plazas are organising children's shows, puppet shows, acrobatics, juggling and a lot of wonderful actvities.
For New Year's Eve, the Municipality of Athens will present a concert including ensembles of the City of Athens, Blue and Alcibiades Konstantopoulos at Herakleidon and Ap. Paulou Street at 11pm.
Another great place to visit is the "A Christmas Story at Technopolis". Visitors will be able to ride three carousels, ice skate, visit the Fairyland and also buy lots of Christmas gifts at very low prices at the Christmas market which will be held at the courtyard. There also will be a workshop with elves and Santa Claus.
For more information:
A Christmas Story at Technopolis
4) Festive Offers
Nobody can disregard the extreme economical crisis that Greece is currently facing. As a result, most shops have started a ten-days sales period in order to make Christmas shopping easier and cheaper for customers. Discounts are usually up to 25% on your purchases, so head to the shops and buy your special ones the perfect gift.
5. Gastronomic & Hotel Luxury
If you want to welcome the New Year in a luxurious and pleasant environment with an exquisite dinner setting, the city hotels provide the perfect answer. For ultimate style check out the Christmas menus and make your bookings at the design Yes!Hotels. Grande Bretagne Hotel offers their guests breakfast in the roof garden restaurant, countless different delicacies and a gift upon arrival. Valid for 2 nights, prices start at 220 euros. The St. George Lycabettus Boutique Hotel has prepared the most stylish and festive Christmas Eve with chef Vasilis Milios preparing a fabulous dinner of high quality and insipiration. Music, dance and many surprises will entertain you throughout the evening. The New Year will be welcomed with beautiful fireworks, loud music and dancing until the morning and you can then take your breakfast at Le Grand Balcon with an astonishing view of the entire city.
Titania Hotel offers an exquisite menu at the price of 70 euros per person for Christmas Eve and 80 euros per person for New Year's Eve. The Christmas menu includes dishes with lobster, lamb and stuffed goose and the New Year's Eve menu includes royal scallops, grouper and fillet of duck parfait. For the ultimate luxury you should visit the King George Palace Hotel, which offers festive buffet breakfast at Tudor Hall restaurant with breathtaking views over the Acropolis, a bottle of wine and Christmas pastries upon arrival. This has to be the most glamorous and delicious menu for Christmas Day and New Year's Eve. Valid for a minimum stay of 3 nights; prices for stays here start at 179 euros for a luxurious double room (per night) Last but not least is the festive offer by the Hilton Athens Hotel of double room with breakfast from €120 per night. For the Christmas Day and New Year's Eve we recommend the Byzantine restaurant serving festive culinary creations with a rich buffet and a festive entertainment program with live music. For Christmas Eve and New Year's Eve we recommend the Galaxy Bar, where chef John Manikis serves an impressive menu full of insipiring gastronomy. Don't forget to try one of their famous cocktails and dance the night away!
Written by:
Marianna Lyra Stavride
PUBLISHED: Jun 9th 2017