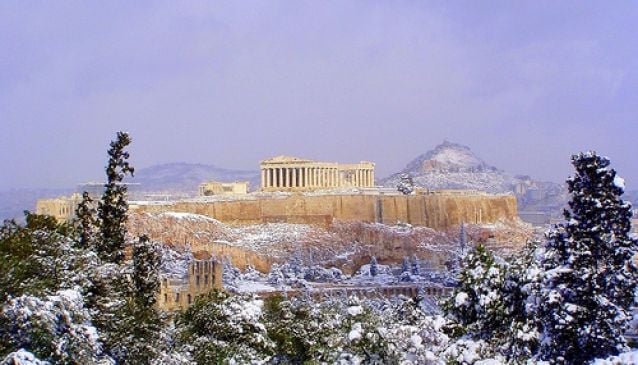 Halcyon Days in Athens
Family Fun
everyone's spirits are uplifted as they greet each other with 'kalo himona' - Happy Winter!
What better time to see Athens, than in the winter? There are plenty of bonuses! Flights are considerably cheaper and hotel prices are as much as 50% lower than in the summer months. Although the weather is cooler so swimming is only for the most enthusiastic, walking around and exploring is much more comfortable and there are no crowds either - you only have to share the Acropolis with a handful of people! Athens in the winter is definitely when the city is at its best, as most people in restaurants, coffee shops, and archaeological sites are Athenian... enjoying their city whilst they can.
Winter in Athens is brief - only lasting through till late February. It can be rainy but the good news is that whilst it might be torrential rain, it rarely lasts more than a few hours before the sunshine is out again - even in January, there is a daily average of three hours of sunshine! Temperatures average 8-10°C but can be as high as 16°C.
Occasionally, the temperatures fall and there is snow on the surrounding mountains. Parnitha (1,413 metres) is the highest peak and is the first mountain to get dusted with snow. There are several snowfalls each year, but usually the snow quickly melts away. The best news about the Athens weather is Alkyonides - meaning 'Halcyon days' - which regularly occur during the winter months. These are balmy, summer-like days that entice everyone outdoors, to walk, relax in coffee shops or potter in their garden, and everyone's spirits are uplifted as they greet each other with 'kalo himona' - Happy Winter!
Walking in the winter sunshine is good for the soul, and can be combined with a pastime of your choice! The winter sales continue through January and well into February and are well worth checking out - prices in the city are good year round, and well known international brands are keenly priced. Retail therapy can be combined with a coffee or tasty snack such as souvlakia (pork kebab served with pitta bread) at one of the many pavement cafes and coffee shops - but don't worry about feeling cold; many have tall gas heaters that disperse lovely warmth onto all the tables! As you wander through the streets you will also be tempted by the smell of roasted chestnuts that can be bought from street vendors or glasses of freshly squeezed orange juice made from the recently harvested fruit.
Athens boasts world famous archaeological sites and plenty of lesser known treasures, and has been described as 'one huge museum' and 'the cradle of democracy'. As a result, seeing some of the sites is important to most visitors. The winter is the perfect time to explore at your own pace the Acropolis, Parthenon and Ancient Agora, as well as others such as as the Temple of Hephaestus and Theatre of Dionysus (the most important theatre in Ancient Greece).
There are museums including the mighty National Archaeological Museum which has 20,000 exhibits and smaller ones including the war museum and Agora Museum. For a bird's eye view of the city, why not climb the Areopagitus? This rocky bluff under the Acropolis offers splendid panoramic views across the roof tops to the mountains that encircle the city and the azure Aegean far beyond. The best way to see many of the key archaeological sites is on foot following the new two-mile pedestrian promenade.
Food is always an important part of a holiday and although many of the tourist cafes and restaurants close, the ones that are traditional and authentic remain open as they are primarily for the local residents and serve traditional authentic dishes for everyone to enjoy. Bairaktaris (1869) is the city's oldest taverna where musicians play melodic rembetika whilst diners enjoy bowls of comforting horta ( boiled mountain 'greens') which taste great with a liberal sprinkling of fresh lemon juice.
Sport is more popular and more energetic when the weather is cooler and the pedestrian promenade that links the archaeological sites is popular with dog walkers, cyclists and joggers - who leave lovers to enjoy just a leisurely amble! If you are seeking the' rush of adrenalin' there is a myriad of sports beckoning from horse riding to white water rafting. For those seeking a pastime with a definite 'wow' factor, the Ledra Marriott Hotel has an ice skating rink on the roof!
With fewer holidaymakers around, it is the perfect time to enjoy exploring further afield with day trips to Naplio and Argolis - or why not try island hopping? Whilst the island resorts are closed because it is low season, the main towns on islands such as Crete, Rhodes, Santorini and Mykonos bustle in the winter sunshine as their residents go about their daily business. Some like Syros - which is not dependent on tourism at all - are exactly the same all year round with restaurants and tavernas serving traditional seasonal specialities. For the mildest winter climate of all, island hop from Athens to Rhodes!
Many who discover Athens in the winter enjoy their stay so much that they return time after time to relax, explore and enjoy perfect halcyon days.
Written by:
Marianna Lyra Stavride
PUBLISHED: Jun 9th 2017